I really enjoyed this book a lot, it takes a deeper look at Apple as a company. This isn't a book about Steve Jobs, it has a lot to say about Steve because he was a big part of Apple and the companies history. However, the book really tries to give you an inside look at Apple and what it's all about. It does talk about the key players of Apple throughout history such as Steve Wozniak, Steve Jobs, Mike Markkula, Tim Cook, and Sir Jonathan Paul "Jony" Ive. One thing I really enjoyed about reading the book is they don't only talk about the early days of Apple, they talk about some of the most recent developments. It's fascinating to hear how the company has evolved over time. Lashinsky also focuses on all of the amazing things Apple has done as a company over time and how they have been like no other company in history because they are so far ahead of the curve. It's fascinating to see how they think differently operate differently, and achieve amazing results by doing so.
History of Apple
Throughout the book, Lashinsky stresses just like the company working at Apple has evolved over time. In the beginning, Steve Jobs and Steve Wozniak were able to get venture capital funding from an incredibly bright entrepreneur named Mike Markkula. It was these three individuals that got the ball rolling. Shortly afterward, Wozniak stayed on as an engineer but eventually wanted to take on other interests (i.e. teaching children) as well so he eventually grew into more of a consultant role. Jobs headed up the Macintosh division incorporating the "pirate" mentality into his small group of engineers. Many of the engineers Jobs worked with and led during this time said this was one of the biggest challenges they had in their life, but they looked back at it fondly. Eventually, Jobs hired John Sculley as the CEO, but they clashed later on and Jobs was ousted from his role in product development at the company so he left. After leaving Apple, Jobs started up Pixar and NEXT Computer. NEXT Computer was eventually bought by Apple, which lead to Jobs return to the company. Jobs went on to have one of the greatest business comebacks for a company in corporate history.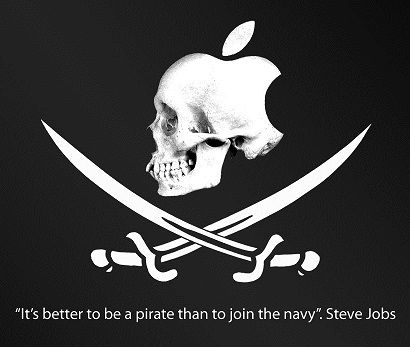 Working at Apple
When Jobs returned, he installed a sense of "secrecy" within the company and talking about Apple outside of work was frowned upon and could be grounds for termination. Also, Apple liked to see people work in small groups because they saw small groups do amazing things when assigned projects. For example, a group of two people put together the mobile app for Safari. Normally, in other companies for such a task you would have a large group working on such a complex project, but not at Apple. While employees would often work in small groups, they could be ousted from the group at any time if the other members didn't think they were carrying their weight. If this happened to an employee he/she would have to find another small group to work in. This tended to work well throughout the product development and engineering spaces within the company. A lot of the employees wanted to work on the best projects and it made them more competitive. The attitude was, "I may have not been accepted into that group, but I still work at Apple." You could almost compare it to a group of doctors working in a hospital without the company loyalty, like I may not be the best doctor in the hospital but I'm still a doctor.