Really enjoyed Aruba and Oranjestad, it was so much fun spending quality time with my wife and our great friends Tim and Kelly in the South Caribbean. We stayed at the Tamirjn Resort which was very nice and I would highly recommend it to anyone. It was an extremely nice place and we enjoyed every minute of our stay there.
One of the first things we wanted to do was go out and see the sites with our good friends Tim and Kelly. We rented a jeep and went off roading which was a lot of fun. We beat the crap out of the jeep and I was hoping we would not tip it over even though we did get the option for insurance.
We came across a neat looking lighthouse called the California lighthouse which was very nice. This lighthouse was named for the steamship California, which wrecked nearby on September 23, 1891. I guess it used to be open to the public until a suicide a few years back.
Tamirjn Resort
The resort was terrific, the dining options we found to be very good – not great. They had many different restaurants to choose from:
The signature Paparazzi Restaurant, Bar and Lounge, a favorite for dinner, serves classic Italian foods and select wines in an intimate setting.
The Asian-fusion restaurant, Ginger, featuring air-conditioned indoor seating and chic modern décor, offers eclectic dishes such as Tokyo Beef Noodles, Mango Chicken and Vegetarian Tempura Mix.
The Palm Grill oceanfront restaurant lets you stir-fry shrimp, swordfish, chicken or beef mixed with fresh vegetables and rice on specialty grill tables.
The open-air, oceanfront Cunucu Terrace is open for breakfast, lunch and dinner.
The casual Pizza per Tutti bar and grill offers full bar service, snacks and pizza cooked in its open brick ovens with great ocean views.
The signature Red Parrot restaurant features fine cuisine and attentive service for dinner only in either an indoor, air-conditioned setting or on the beach side outdoor terrace.
Pelican Terrace offers locally influenced dishes with Aruban flavor as well as continental cuisine and the option of dining either in or outdoors for breakfast, lunch or dinner.
Coco Grill and Bar serves light fare and pizza.
The oceanfront Sandpiper Bar offers pasta dishes, sandwiches, hamburgers and hot dogs.
Having copied and pasted this off of their website, it should give you an idea of the types of restaurants they have. My advice, the Red Parrot and Palm Grill are best. Here is a picture of my wife and I enjoying our dinner at Palm Grill.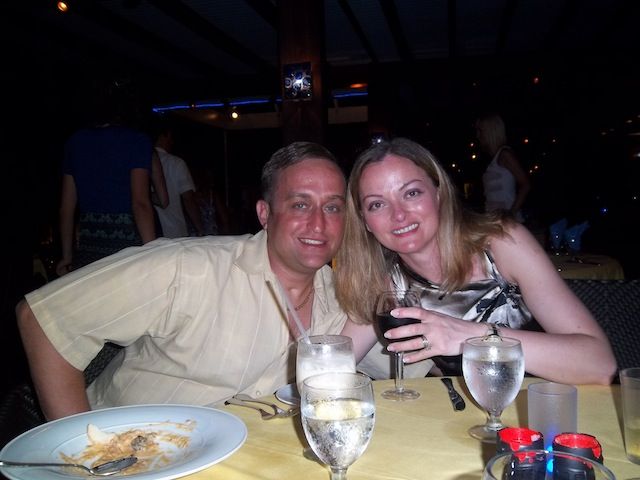 In my opinion the best thing about the resort is most of the rooms are about 50 feet from the Ocean. It really lets you take in Aruba and Oranjestad in their entirety. This is convenient for guests, appealing to my wife, and fun for me. The beach had white sands and the water was crystal clear. It was stunning and simply amazing. Here is a pic of me being silly with the pelicans
We did go downtown for a few days during our trip, which was fun. My wife ended up getting some neat jewelry and a coach handbag and I got a pretty cool ring at one of the jewelry merchants.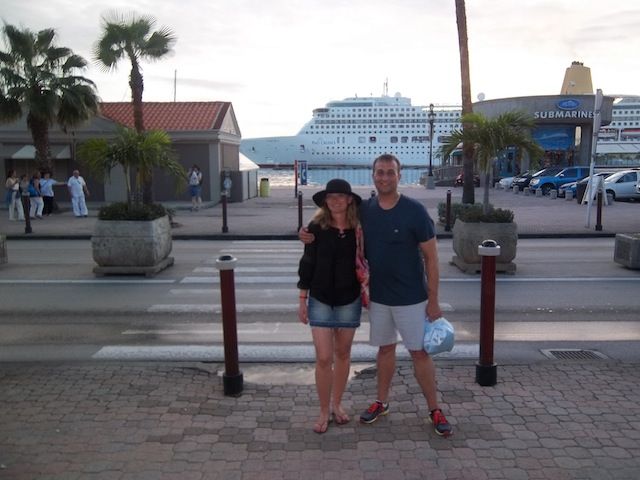 All in all, it was a fabulous vacation. My wife and I absolutely LOVED Aruba and we would go back to this quaint little Caribbean island again