Are you buying your home for the first time? Do you think first time home buying can be tricky? Are you a real estate investor? If you answered yes to any of these questions, or if you are eager to get into the homebuying market, then this article is solely for you.
The issue of buying a home can be the biggest one-time purchase in your life. It can be an overwhelming experience and therefore it is uncommon for most first-time home buyers to carry unrealistic expectations into buying a house. Notwithstanding the fact that it is normal to feel emotional about buying your first home, it is also important to make sure that you do not give room for your emotions overshadowing your better judgment.
More often than usual, it has been said that not all you read or heard should be believed which I solemnly agree when it comes to homebuying. Buying first home leaves many to be an easy prey, falling for different stories regarding the purchase of a home.
Understanding the true facts of buying your first home can help you to ensure that you do not let your emotions take over your sense of better judgment and thus ensuring that you wouldn't make a mistake in a purchase that might be end up being the largest in your lifetime.
A perfect example of common stories told in which first time home buyers fall victim to, is the belief that their perfect dream home exists somewhere thereby misleading them to go on a search that would prove futile in the end making them frustrated and disappointed.
Though it would seem very lovely to get the perfect home, which has everything you have ever dreamt of in it, if you follow this belief, you will discover yourself compromising when in search for home. All you need to do is to focus on items that are a must-have and try to compromise on features that are not as much of a priority.
Also, another common mistake which many buyers make is having the belief that they should buy a home that they would live in for the rest of their lives. Though this once existed when it was standard for families to buy a house and live there for many years but that no longer stands. Nowadays, many reasons could arise leading to you deciding to sell your first home and purchase another in the future. Circumstances always arise, therefore when buying your first home, there is every need to ask yourself these questions:
What type of home will I need to satisfy my needs?

There are so many options available to you when buying a house, and for every selection you make, there are advantages and disadvantages all of which solely depends on your ownership goals; therefore, it is important that you select the house that is best suited for achieving your goals.

What basic features should my home possess?

For the fact that you might be making the biggest purchase of your life, definitely makes the purchase worthwhile fitting your needs and wants. Therefore, your list should contain all your specific needs and desires.

How much is the house I can afford?

This is an important question you really need to ask yourself; therefore you will need to know the total cost, insurance cost, property tax fees as well as maintenance and improvement fees.

Who will be my guide in buying a house?

The first thing that should pop into your mind should be a real estate agent who will help you in locating homes that meet your basic needs which will also be in your price capability range. The moment you decided to choose a home to buy, the real estate agent can give you expert advice on steps to take and help in negotiating the entire buying process.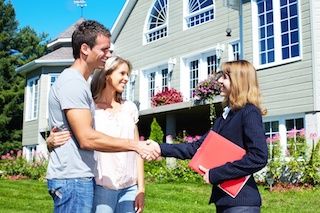 The Homebuying Process
At last you've decided to take the bold step and buy a house, now let's go through things you have to watch out from the buying process itself.
Finding a home

Taking advantage of the various options in getting a home on the market should be on your mind, including using your estate agent and researching online through various listings. Also informing your family, friends, partners might also prove helpful.

Making an Offer

Your estate agent should be in charge here giving you advice and helping you to decide the amount of money you want to offer for the house you are interested in backed up by the conditions you want to set down. Then your agent will meet with the seller or his agent, presenting the offer to them. Then the seller or his gent will then decide to either accept or issue a counter-offer in which you might accept or negotiations continue until an agreement is reached between the two parties.

Obtaining home inspection services

No matter how fulfilling the home you have decided to buy is, a Professional coming to inspect the house still has to be necessary to give expert remark on the quality, safety, and general condition of the home, soon to be yours. Therefore, in a situation where the inspector gave a negative comment or reveal some defects which the seller hid from you, then you will be able to reconsider your decision and get your deposit back.

Buy and Close

If working out a deal on the condition of the house is going through or perhaps if the inspector didn't reveal any major problems in the house, then you should be ready to buy and close. This involves a lot of signing here and there, dealing with paperwork, payment and the rest. At this stage it is called the final stages of your purchase and once all is signed and sealed and then the place starts to feel like home and so I say Congratulations to you on being the newest Homeowner in town.
In order to make life more fun and secured for you as a new home owner, here are a few tips for you.
Keep saving
Always ensure you carry out regular upkeep and maintenance
Ignore the housing market
All this will help you fulfill your dreams of a path to sustaining your home-buying knowledge, don't forget that the more you keep educating yourself about the buying process, he more you will continue to get the house you want at an affordable price