Who's looking to save some money on their tax bill for 2012? Anyone? I know I am, I'm always looking at my deductions, trying to make donations to the Salvation Army down the street from my house, and saving important tax related information I find online. I know it may sound silly putting this much work into taxes, but you would be amazed at how much you can save. There are many tax season tricks every American should take advantage of, I wish I would have put more effort into it when I was younger. Nobody likes doing their taxes, and there are many ways you can do your taxes which will save you a lot of cash in the long run like TurboTax, TaxACT, CompleteTax, TaxSlayer, and TaxBrain. If you have a lot of itemized deductions I think it's probably best to hire a professional to do your taxes. While I always go to a licensed professional, there are many other places you can go like H&R Block and Jackson Hewitt.
In this next section, let's focus on deductions because they can make your life so much easier. You would be amazed at how many expenses you can deduct from your taxes, many individuals don't even think much about deductions and that's just folly.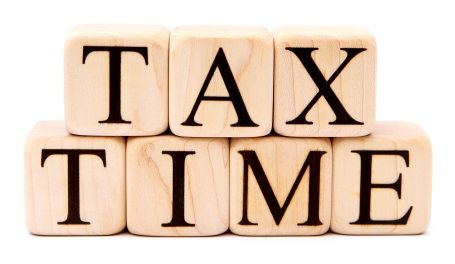 Charity and Donations

Make sure you're always donating to your local charities during the year. You can donate in many different ways. For example, there is a Salvation Army a few blocks away from my residence so I'm always bringing them clothes I don't wear, appliances I don't use, dated computer equipment, etc. The way I just explained what I'm bringing them it sounds like I'm bringing them junk, that's not true it's definitely stuff someone else might be able to get use out of and if I was stingy I'm sure I could sell this stuff on ebay and make a few dollars. I would rather donate these goods to charity and you should too. Additionally, all of us have two or three charities we like to support in our life. Keep your receipts when you make a cash donation, you can deduct them from your taxes at the end of the year.

Refinancing

Interest rates have been pretty low the last few years, and a lot of homes have been refinanced. The points you pay to refinance your home can be deducted on a monthly basis over the duration of your loan. For example, if you refinanced your mortgage on 11/1/2011 for a 15 year term, twelve out of 180 months will have passed before 12/31/2012. If you paid $3,600 in points, you can write off $120 for 2012. Each year after, you can write off $120 as well which is the maximum until the points have been deducted in full (the $3,600 is paid off). Additionally, you can also deduct old points on refinancing. If you happen to refinance your home again, you can deduct all of the unamortized points on an old refinancing plan.

Medical Expenses

Medical expenses can be tricky and you have to make sure you're deducting them in the right way. Any co-pays, medicare premiums, and health insurance premiums you pay can be deductible. You have to add all of these items up at the end of the year. If these medical expenses exceed 7.5% of your adjusted gross income, you can deduct them. If not, they aren't deductible. If you're self employed you don't have to worry about the 7.5% cap, all medical expenses are 100% deductible.

Education

There are many tax deductions and credits you can take for education. The Earned Income Tax Credit (EITC) states "Families with lower income and three or more qualifying children will continue to be able to claim the Earned Income Tax Credit through 2017". The American Opportunity Education Tax Credit is a $2,500 tax credit for tuition costs for four years of post high school education, can be claimed in 2013 through 2017. Also, the Higher Education Tuition Deduction, allows people to deduct between $2,000 and $4,000 of qualified tuition costs is retroactively restored for 2012 and is extended through 2013. The Lifetime Learning Credit provides a tax credit of up to $2,000 for any level of college education (even graduate school), and doesn't require a minimum level of enrollment. However, the Lifetime Learning Credit has a narrower income range compared to the tuition deduction.

Investment Expenses

Many of us forget tax-planning and investment expenses because they fall under miscellaneous itemized expenses. Further, the total must exceed 2% of your adjusted gross income before you get any tax benefit. Expenses to track include your employee business expenses, tax preparation fees and even the portion of your legal or accounting fees relating to tax planning. For example, in a divorce, the legal time spent relating to the tax aspects of alimony and child support would qualify. So too would the tax aspects of estate planning. Many people shortchange themselves on the deduction of investment expenses. They remember the safety deposit box fees. But how about the annual fee paid your broker and any IRA fees you pay directly? You may remember the cost of your investment publications on subscriptions (such as Forbes, Fortune and Barron's, but how about the investment newspapers you buy off the newsstands)? You keep track of your long-distance phone calls to your broker and investment adviser, but how about the mileage to go see them?

Tax Expenses

Any fees you have preparing your taxes are deductible. For example, I always have an accounting firm or a licensed professional do my taxes for me. This usually costs me around $300-400. This is 100% deductible on your return the next year.

Home Expenses

You can deduct home improvement expenses on your tax return, this is perfectly acceptable. Examples of home improvement deductions you can take are jobs like plumbing, wiring, and installing air conditioning or putting on a new roof. You can take the cost of the entire job if you hire a contractor to do it, if you do it yourself you can deduct the cost of materials (not your own labor). There are some home products, particularly those that are energy star rated, that you can get a federal tax credit for, you can find the list here. If you move more than fifty miles from your job, you may be able to deduct moving expenses. If you work out of your home or apartment you may be able to deduct a portion of the mortgage or rent for this use, if you meet specific requirements. This one is very tricky, and I would check with a tax professional to see if you qualify.

Retirement Tax Credit

The retirement tax credit was created to try to get people to save for retirement more, specifically moderate and low income taxpayers. If you do make a contribution to your retirement account, that money isn't taxed. Think of it like getting a deduction off of your income. You get a tax credit up to 50% of the first $2,000 invested which is a $1,000 reduction in tax. So let's sum it up, thats a $1,000 tax reduction and the $2,000 reduction in your income is tax free. In my opinion, that's $2,000 that is well invested. Additionally, you can deduct as much as $5,000 ($6,000 if you're over 50 years old) in contributions to an IRA if you qualify. This tax credit vanishes as your adjusted gross income increases. Singles with adjusted gross incomes up to $28,250 and married couples with adjusted gross incomes up to $56,500 qualify. The limit is $42,375 for heads of households. Contributions to 401k's, 403b's, Simplified Employee Pension plans, traditional and even Roth IRAs qualify.

Employment Expenses

There are quite a few things you can deduct for work related expenses. For example, if you need to wear a certain type of outfit for your job, these items are deductible. If you need tools (i.e. levels, tripods, cameras, computers, etc.) these items are deductible if you use them regularly for your job. If you have to travel overseas for business, the cost of your passport renewal is tax deductible. If you decide to search for a new job, any amount of money put forth in that job search is tax deductible. If your job requires you to join the Chamber of Commerce or any professional organization, any dues associated with these memberships are tax deductible. Any licenses you need for your job, the fees should be tax deductible. If you subscribe to business magazines, need books in your field of research, etc. these items are tax deductible. If you're part of a Union, any fees associated with the Union are tax deductible.

Child Care Credit

Parents can qualify for a child care credit of between 20% and 35% of what they pay for child care while they work. This is a credit, not a deduction and a credit can often be better than a deduction in many ways. If your boss offers a child care reimbursement account, which allows you to pay for the child care with pre-tax dollars, that might be an even better deal. If you qualify for a 20% credit but are in the 25% tax bracket, for example, the reimbursement plan is the way to go. (In any case, only amounts paid for the care of children under age 13 count.) You can't double dip. Expenses paid through a plan can't also be used to generate the tax credit. But get this: Although only $5,000 in expenses can be paid through a tax-favored reimbursement account, up to $6,000 for the care of two or more children can qualify for the credit. So, if you run the maximum through a plan at work but spend even more for work-related child care, you can claim the credit on as much as $1,000 of additional expenses. That would cut your tax bill by at least $200.

Travel Expenses

You can deduct travel expenses for business, this is perfectly acceptable. However, if you work for someone else and they are covering your travel expenses you can't deduct them. There is no double dipping on travel expenses and this is a big red flag for the IRS. One thing you can do, which is often overlooked, is deduct at home expenses when you travel on business. For example, let's say you have to trave overseas for two weeks and need to board your dogs while you are away on your trip. These boarding fees are tax deductible. Other similar situations apply as well, you may want to talk to a tax professional to see if you can deduct a questionable item. Every situation is unique and should be treated with care.

Gambling Losses

Gambling losses can be deducted from either an individual or a joint tax return. The catch is here you can only deduct the amount of gambling losses you have towards gambling winnings. For example, let's say you have $1,000 of gambling winnings and $300 of gambling losses. You would only have to pay taxes on $700 of the gambling winnings. If you have more gambling losses than winnings you can deduct the whole amount against your winnings, and you can't deduct those gambling losses against anything else.