Social Networking is the new normal, everybody does it and loves it. We have to face it we're in the new era of social marketing, marketing is different than it was ten or twenty years ago. We're all linked on a number of Social Networking sites such as facebook, twitter, pinterist, google+, etc. It's a great, new, exciting way for us to keep connected with our friends and family, network with others, and have fun all at the same time. A lot of people think Social Networking is the best thing to come around since sliced bread, and for many it actually is (or is it). Can you guess how many hours the average person spends on facebook per day? I have seen quite a few surveys on it and it averages right around five to seven hours a day. That is a lot of time! Social Marketers understand this and they put a lot of time, energy, and resources to try to get their messages to you. Also, it's a great way for companies to brand themselves.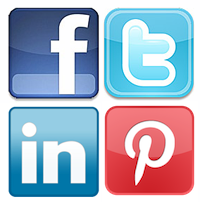 The Top Social Networking Sites
The top social networking sites have the most traffic and we commonly see the most marketers and companies there too trying to spread their messages. Here is a list of the five six Social Networking sites as of January 2013:
Facebook
Twitter
Linkedin
MySpace
Pinterist
Google+
You have probably heard of all of these names, and maybe even visited all of these sites. Do their ads pop out at you or do they seem relevant to you? They don't even bother me, and many of my friends think the same thing. There is a trick to that. I know when I look at these social networking sites I think the ads align with my interests and preferences. That's because they know a lot about you and are able to do this just from the site. For example, you "like" something in facebook and you better believe there is a record being made of that. If you "follow" someone, there is a record of it, even if you "unfollow" them later. If you're the member of a group or have a certain profession, you better believe you can be targeted.
Weighing the Pros and Cons of Social Marketing
There are many pros and cons of Social Marketing. Some of them stick out like a sore thumb to me, I've even already hinted towards some of them. I think it's pretty easy to deduct it's worth it for any business to establish a social marketing platform because the pros do outweigh the cons.
PROS
Reach

Those who engage in Social Marketing are able to reach an extremely large audience. Every successful business needs an online presence and a website is a great place to start. Your second step, Social Marketing

Branding

Do you ever notice how you see a lot of big brands doing a lot of Social Marketing? That's because they are branding themself, and a lot of them do it quite well and effectively.

Customer Interaction

One of the most beneficial things businesses can do is interact with their customers. This can help companies improve themselves, bring new ideas to the table, and improve existing processes

Cost

Social Marketing is for the most part free. The only costs associated with Social Marketing (which can be a big one) is time. This differs from other forms of online marketing.

Build Trust

This is a big one. Not only can you inform your customers about your product, you can address issues and manage any crisis that comes your way. If you show your customers you care about them your company will grow.
CONS
Time
Remember, you're trying to reach as large of an audience as you possibly can. To incorporate a successful social marketing strategy for your company you must have a lot of time
Privacy
This is a tricky one. If you are using a social marketing strategy that incorporates targeting you have got to be careful. Be even more careful if you are trying to learn more about your targeted audience through their habits. Privacy is something people take seriously and they should
Slow Return on Investment
Just like building any business, building an effective social marketing strategy takes time. It can take months if you're great at it, and years if you're good.
Public Backlash
Be prepared for it, you get pissed off customer(s) that come to your Social Marketing platform and tell the world why your product is terrible. What is more important is how you react to it. Public Backlash can be a good thing if it's handled correctly. Too many big companies handle backlash poorly.
Doing it Right!
There are those companies out there who use Social Marketing brilliantly. It's amazing how talented some of these people are to have used Social Marketing to make their products go viral and give their companies the best branding they could ask for. The first company I can think of is Wine Library and the individual that brought it so far was Gary Vaynerchuk. What a success story through social marketing, check him out on the web or read one of his books mentioned here or here.

The New Era of Social Networking and Companies that do it Right
Zappos is another company that uses Social Marketing the right way. They build trust with colorful user review templates, a fan of the week contest, and offer their users access to exclusive content.