The Power of Lists is that they can be very, very useful in both our personal lives and business. What are some of the best things about lists? I think lists are useful for everything, in all kinds of different walks of life. For example, when I'm off work on a weekend I make a list of what I need in the house before I go to the grocery store. I may also make a list of all of the places I need to go (i.e. Dry Cleaners, Gas Station, Wegman's Grocery, Antique Store, CVS Pharmacy, etc.). This will help me remember what I need to do that day and it will help make my day more complete. Additionally, you can use lists to prioritize items from "most important" to "least important." Almost everyone uses lists, it just makes sense to do it in our lives and it helps us be more responsible. People love lists in general, and people love to use lists when they write. The same goes for business, I'm in sales and I use a CRM system daily but the other single most important thing I use is lists. I use "to do" lists and "checklists" daily in business and they help me keep organized. Lists can also function as specific instructions for doing important tasks correctly. How do you use lists? Do you find they benefit you?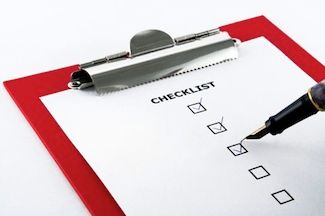 Types of Lists
There are many different types of lists we can use, so many it would be difficult to list them all. However, I'm going to go ahead and make a list of the different types of lists I use on a regular basis.
HTML Lists

HTML lists are something every web developer is familiar with. I'm not a web developer, but I do write my blog posts in HTML so I find myself frequently using the ol, ul, dl tags. They can be your best friends when it comes to coding properly. Additionally, people love it when lists are used in writing, I see content come together when authors use lists in their everyday writing. Simply said, lists help writing come together.

Checklists

Checklists are great, they help people get things done. I use checklists all the time at work. I always have a few important things I need to write down or I will forget them. I like to have checklists organized in a way so you get the most important and urgent tasks done first. The less important tasks can be done later. I use checklists in my everyday life too, as soon as I finish this blog post I can check it off of my list!

Idea Lists

Idea lists are the best. I have an idea list at home of some of my better ideas on things I'd like to try to do or experiment with. Idea lists can make you wealthy if you decide to take the risk and put your time, work, and energy into a certain idea. It's great for everyone to have an idea list, you should always have dreams and the opportunity to make those dreams a reality.

To Do Lists

I use to do lists all the time. I wonder if to do lists are the most popular type of lists people use on a regular basis. I use to do lists with both my job and my personal life. I even use to do lists for long term projects like goals. Some examples of to do lists I have are my new leads list for work, my errands list for weekends, my goals list for long term projects, and my blog topics list for what I do here.

Wish Lists

Wish lists are great because they motivate me. I write wish lists every year and I always know I won't get everything on that wish list so I'm able to put those items on the next years wish list. On my wish list this year I have a number of items. For example, my biggest item which I'll probably have to table until next year is a new house (I plan on renting out the condo we live in now). Other items include a Mac Desktop Pro, New Cabinets, Granite Countertops, Trip to Czech Republic, New Honda Accord (another one that will be tabled), and New Windows.

Wrapping it Up

I hope I have given you some ideas on lists and shown you how useful they can be. Using lists in our everyday lives helps us immensely. I use lists everyday and they help we with my work, they help me get things done on the weekend, and they help me with so many other parts of my life. Lists help individuals organize their lives, prioritize their tasks, and get things done. Do you use lists?